OUR PRODUCTS
Please click on an icon or scroll down to view our products. If you have any questions, please
contact us here
.
QuickTub Walk in Tub Conversion
The least expensive, least disruptive and quickest way to convert an existing bathtub into an accessible step-in shower with the ability to return to a secure and fully functional bathtub within seconds.
Walk Thru® Insert
This unique product converts your existing bathtub into a step-in shower.
Easier to step into the tub with side wall reduction of approximately 8 in.
Provides almost 2 ft. of flat area for you to step through
Available in various widths to ensure the best possible fit for your tub
Can be positioned to the left or right of the center of the tub
Makes using a tub bench or transfer seat even easier
Allows for easier access to caregivers
Available in white
Quick Tub® Cap (Patented)
When used with the Walk Thru Insert, the Quick Tub Cap provides a fully functional bathtub.
Installed in seconds
Removable and takes up very little space when not in use and stored away
Lightweight – approximately 7¾ lb. (3.5 kg)
Lifetime seal warranty
Safer than products with attached doors, especially when a converted tub is used primarily for showering
Watch how easy the Quick Tub is to use!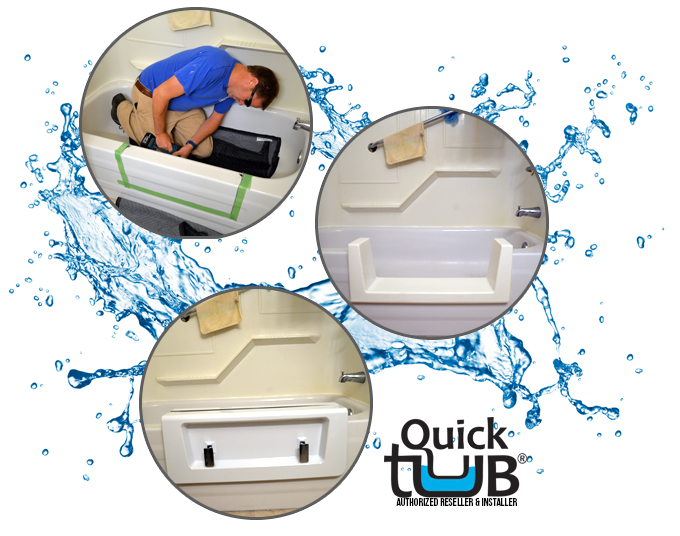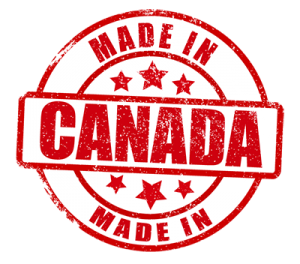 Unlike specialty walk in showers that can cost upwards of $5000, a Quick Tub conversion can cost as little as $1000.
A tub-to-shower conversion takes only a few hours. Even with the addition of grab bars, tub benches etc, most installations are completed the same day.
Just about anyone, young and old alike. For individuals and families that mostly shower, it creates a safer environment that drastically reduces the potential for slips and falls. It helps seniors or physically-challenged individuals maintain independence in their own home.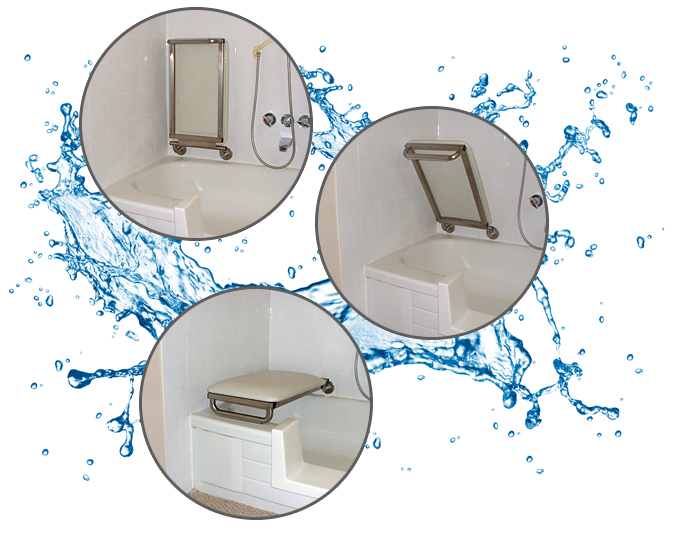 Tub Benches & Shower Seats
All of our Shower Seats are fastened to a wall into proper backing or using our A.O.D.A. Compliant Wall Fasteners.
We make sure the seats are securely fastened to the wall!
All Tub Benches and Shower Seats are wall mounted and folding!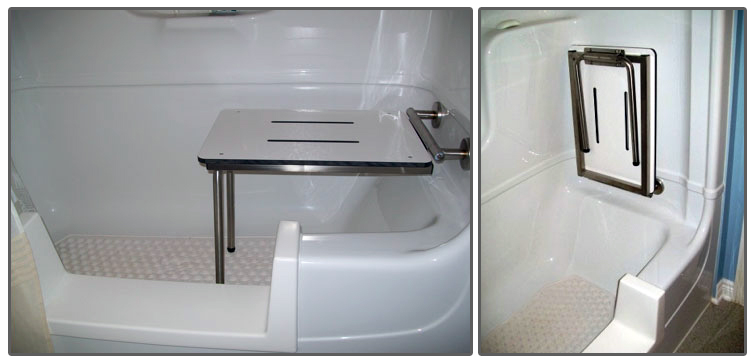 Sonaris Reclining Bath Lift
Combines superb functionality, outstanding performance and great design giving the user a delightful bathing experience. The single-button operation allows the user to descend and keep the backrest upright or to recline back to a more comfortable position, while retaining ample leg room to relax in the bath. All-plastic construction is easy to clean, yet strong and durable to ensure stability and years of use. The lightweight seat and back simply click together easily for quick assembly, installation and removal. The Sonaris fits most shapes and sizes of bath tubs with suction-cup feet that may be angled in any direction to suit the curvature of the bath and to ensure stability and safety. Easy to operate.
Superior battery provides average of 8-10 lifts, depending on the weight of the user and the number of times used weekly. It only requires three hours to fully charge.
Recline is entirely controlled by the user after the lift has completed its descent.
The user can select any angle of recline up to 40°.
Speed is decreased during the reclining of the backrest so the user feels more comfortable.
Holding points on each component simplify carrying and transportation.
Large side flaps allow easy transfers.
Simple operation; just lightly press the large control pads, which are textured to assist the visually impaired.
An audible beep and warning light identify when the battery requires charging and when to stop using the bath lift.
A built-in safety mechanism ensures the bath lift will not lower if there is insufficient charge in the battery to raise the user.
An automatic sleep facility occurs after 10 minutes of non-use in order to optimize battery performance. Reactivate simply by pressing a control pad.
5 year warranty on frame, 2 years on motor/actuator, hand controller, recharger, and cover.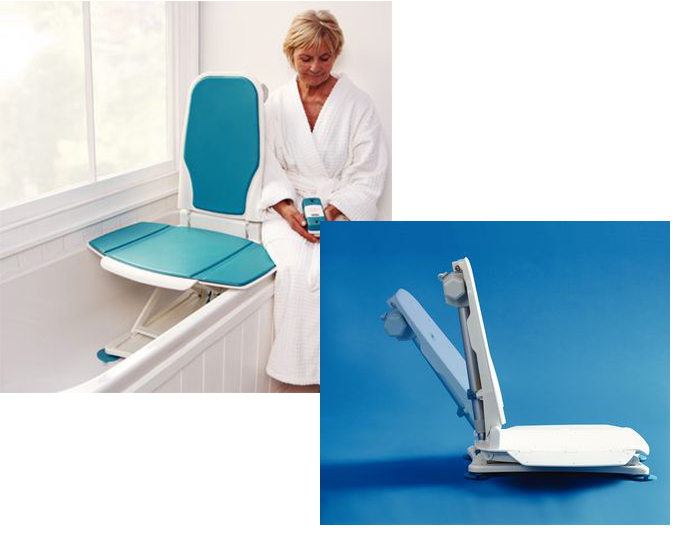 Grab Bars & Railings
Don't make your bath room look like an institution!!
Fastening any grab bar properly is very important. Most times a wall stud can be located and used. There may be times when that is not possible, and special load-bearing fasteners should be used. Small butterfly fasteners or toggle types of fasteners just can't do the job or meet building code standards. Let us show you our patented multi-arm waterproof fasteners that can support hundreds of pounds and not pull out of the wall.
Having the SureGrip Grab Bars in the correct locations will certainly make entering and leaving the bathtub or shower much safer and easier.
The Pure Elegance made in Italy. This product line is rated as antimicrobial.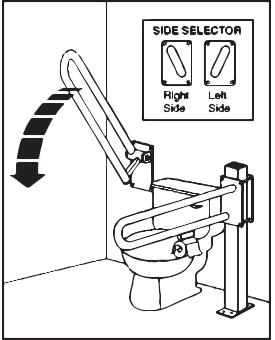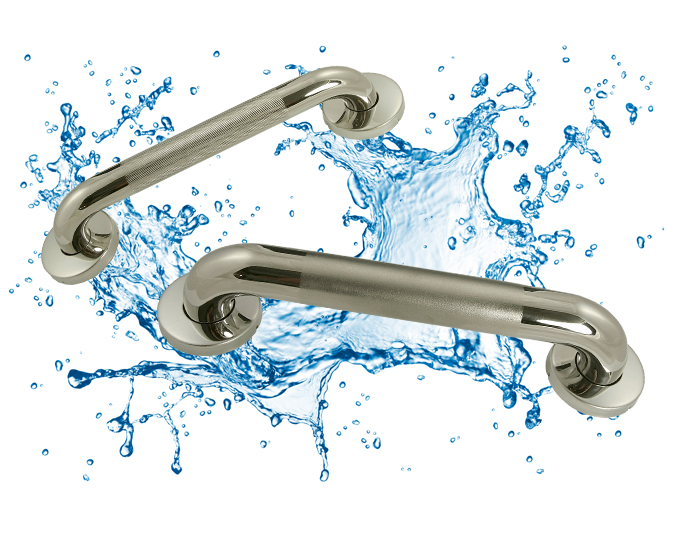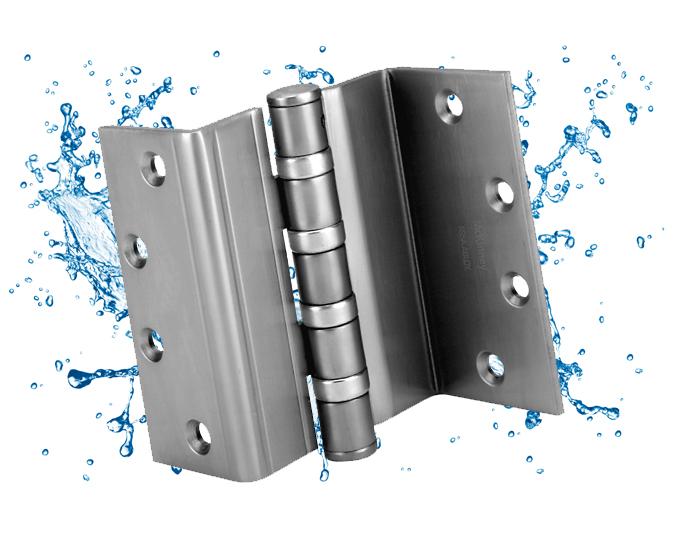 Swing Clear Hinges
Our SwingClear Hinges gives you up to 2 inches of extra clearance through doorways. This can make the difference between a Walker Leg or Wheelchair getting through a doorway or not.
SwingClear Hinges are cost effective and can be installed to fit on most residential doors. No additional hardware is needed. These "Z" shaped hinges use the same screws and holes as your existing hinges.
SwingClear Hinges are designed to swing doors completely clear of the opening when the door is opened at least 95° This is an economical alternative to the major expense of changing doors and door frames.
Description & Door Application
Standard Duty
3½ Bright Brass or Brushed Nickel Finish
Hollow Core Residential Interior Door
Heavy Duty
4½ Brushed Chrome, Solid Core Residential Interior or Exterior Door & Commercial Doors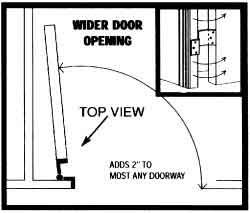 Bottoms Up™ Toilet Riser
Raises the entire toilet 3.5″.
Features and Benefits of the Bottoms Up:
The best alternative to elevated toilet rings or expensive Comfort Height toilets
Allows for much safer and easier use of the toilet
Mounts under the existing toilet
Made of high quality injection molded plastic
White but can be painted
Economical – no need to replace toilet or bidet
Non Obtrusive
Aesthetically Pleasing
Can be used by the whole family
Very stable
Safer than screw on or wedged elevated toilet rings
Supports users up to 500 lbs
Easy to keep clean
Allows a normal toilet seat to be used
Whether a standard round bowl or elongated bowl type of toilet The Bottoms Up
universal design will convert a standard height toilet to a higher toilet by adding 3.5″of additional bowl height.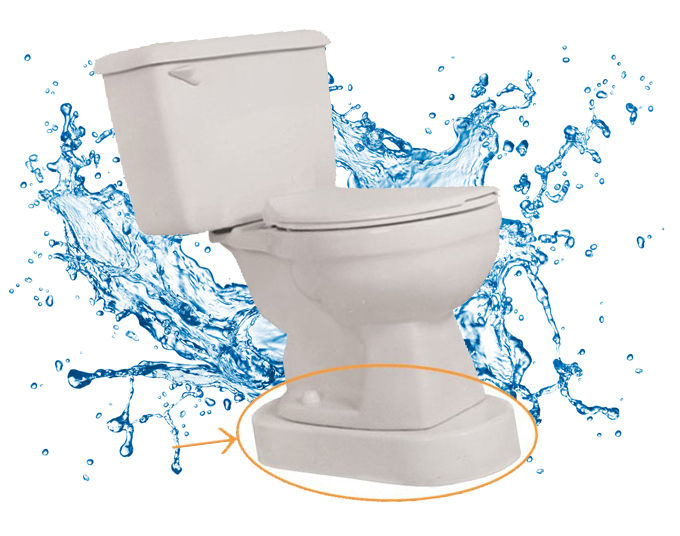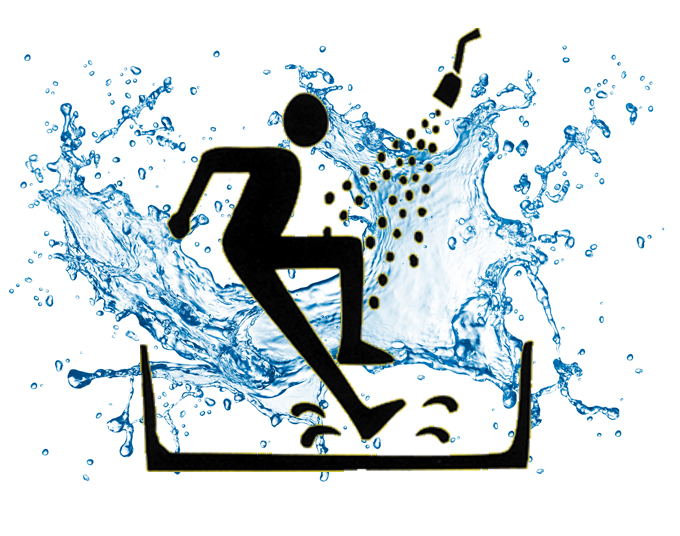 CERTAIN STEP Anti Slip Coatings
Reduce the potential of Slips and Falls while in the Bathtub!!!!
CertainStep Surface Treatment reduces the danger of injuries occurring in the bathtub by dramatically increasing the "Slip-Resistance" on wet or dry porcelain. Our safe treatment creates an invisible tread on hard mineral surfaces.
After the treatment, the surface is actually safer wet than dry!!!
We've all seen rubber bathmats that slip and discolour. Appliquies and strips peel off or curl up over time. And of course, there is always the problem of mold and mildew build-up.
The CertainStep Surface Treatment eliminates all of those problems and can be used within minutes!!
With proper and normal cleaning a single treatment of CertainStep will last as long as your tub.
Accessories
From Shower rods and curtains, to the safest mounting hardware. TotalTub can provide you with all of your bathroom safety needs. We also offer a wide selection of shower heads and shower baskets, making your shower an even safer and easier experience. Call us today, and turn your tub into a Totaltub!